Vertigo poster designed by Saul Bass. Click to enlarge.
Sueurs froides / La donna che visse due volte / Aus dem Reich der Toten / Vertigo - punainen kyynel / Studie i brott. US © 1958 Alfred J. Hitchcock Productions, Inc. Based on the novel D'entre les morts di Pierre Boileau e Thomas Narcejac. SC: Alec Coppel, Samuel A. Taylor. DP: Robert Burks. ED: George Tomasini. AD: Henry Bumstead, Hal Pereira. M: Bernard Herrmann. C: James Stewart (John 'Scottie'), Kim Novak (Madeleine / Judy), Barbara Bel Geddes (Marjorie 'Midge'), Tom Helmore (Gavin), Henry Jones (coroner), Raymond Bailey (dottore), Ellen Corby (proprietaria dell'hotel), Konstantin Shayne (Pop Leibel), Lee Patrick (automobilista mistaken for Madeleine), Paul Bryar (Hansen). P: Alfred Hitchcock per Alfred Hitchcock Productions, Inc., Paramount Pictures Corp. 35 mm. Col. Sous-titres français. From: La Cinémathèque française by permission of Universal Pictures.
Filmed in Vistavision / VistaVision: 35 mm dye transfer Technicolor features derived from VistaVision colour negatives.
Viewed at Cinema Arlecchino (Bologna, Il Cinema Ritrovato, Technicolor & Co. / Peter Forever, Homage to Peter von Bagh), introduced by Céline Ruivo (La Cinémathèque française) and Jean Douchet, with e-subtitles in Italian by Sub-Ti Londra, 2 July 2015.
The subtitled print was screened at 1,66:1.
Peter von Bagh (Il Cinema Ritrovato, catalogue and website):
"I really identified with the story because to me it was saying: Please, see who I am. Fall in love with me, not a fantasy" (Kim Novak).
"It's an odd thing, but everyone who disappears is said to be seen in San Francisco. It must be a delightful city and possess all the attractions of the next world" (Lord Wotton in The Picture of Dorian Gray by Oscar Wilde)
"The means, tricks and central images of Vertigo are like verses of a poem, visible, identifiable, yet retaining their mystery, never obvious. Visual motifs reappear hypnotically: flowers, trees, the necklace, the ocean, the church, and the passages and stairways which are like labyrinths of self-deception and whose spirals are like invitations to hell. The very beginning leads to an entirely unreal emphasis: Scottie remains hanging from the roof-top gutter, and it is impossible to imagine that he could survive in the 'real world'. His borrowed time takes him to situations that are no less difficult to master. Typically for Hitchcock, the most famous single image of the movie is a feat of both technical virtuosity and profound psychological insight. He told that he conceived it after fifteen years of thinking about a vision he had had in a moment of being terribly drunk and having the sensation that everything was going far away. It occurs at the church where Madeleine runs upstairs. Scottie cannot follow due to his acrophobia and when he looks down the stairwell everything escapes his eyes into a strange sawing pattern. Hitchcock realized that the viewpoint had to be fixed while the perspective changed lengthwise so he ended up using a simultaneous zoom and a dolly in opposite directions with a camera set-up where a miniature staircase was photographed sideways."
(Peter von Bagh) - AA:
Extract from Peter von Bagh's posthumous unpublished manuscript for a book on Alfred Hitchcock covering all his films with an emphasis on a single shot from each. Peter von Bagh was a champion of Alfred Hitchcock since the 1950s. His master's thesis for the Department of Aesthetics and Literature at the University of Helsinki in 1968 was Cinematic Means and Their Use: Alfred Hitchcock's 'Vertigo'. In 1968 von Bagh interviewed Hitchcock, who was visiting Helsinki in preparation for his projected spy thriller The Short Night. The interview was published on a full page of the newspaper Helsingin Sanomat with the title "Logic Is Dull". As we know initially Vertigo was not generally highly regarded, but since the 1983 re-release its reputation has steadily grown until it was voted as the best film of all time in the 2012 Sight & Sound poll.
(AA, Il Cinema Ritrovato, catalogue and website)
AA: I have never seen a good print of Vertigo. This seems remarkable about a film that has been voted as the best film of all time in the 2012 Sight & Sound poll, and, more importantly for me, a film Robin Wood considered one of the few most profound works of art the cinema has given us.
Born in 1955, I did not get to see Vertigo during my school days. It had been withdrawn from circulation, and it had never been telecast, nor were there any prints that film societies or film archives could access.
But studying in West Berlin I did get to see a 16 mm print of Vertigo in April 1981. It was in the distribution of Peter Vollmann who regularly screened it in his Thalia cinema. I believe it was shortened by 10 minutes (intentionally I believe as no dialogue or key event was missing) but the colour seemed right; I had seen enough genuine Technicolor prints to have a sense of that.
Then finally came the 1983 re-release of the "five missing" Hitchcocks. The reason for the fact that they had been missing for such a long time was that Alfred Hitchcock himself owned them, and first after his death they were re-released. It was great but the prints of Vertigo were not particularly good. They looked duped and darkened.
In 1996, Robert A. Harris and James C. Katz finished their big and ambitious restoration of Vertigo in 70 mm - an accurate way to process the ratio of the original VistaVision negative. Because of differential separation shrinkage in Technicolor negatives there was significant colour correction and computer assisted colourization. For the new 6-channel DTS stereo soundtrack Harris and Katz re-recorded some sound effects via the foley process and even added sound effects to camouflage hisses, pops and bangs. (I copy here formulations from Wikipedia). This is the version of Vertigo that has been in general use since - until the 4K digital restoration of 2014. We have been very happy to screen it while aware of the fact that it is an approximation.
But because of this background it is exciting finally to see a vintage print of Vertigo. Some people criticize the very term "vintage print", but here it is justified. This is an original release print, a Technicolor print in which we can observe the original remarkable colour world of Hitchcock and his brilliant artistic team.
Céline Ruivo in her introduction commented that 1,85:1 was the standard aspect ratio for Vertigo but because of the French subtitles 1,66:1 would work better. There were two special projectionists: Pietro Piazzo on behalf of the festival, and a La Cinémathèque française projectionist.
The colour is beautiful. Here we can see the original reds, golds and greens of Vertigo, and the shades of blonde hair and gray dress of the dream woman. Much of the film has been shot with a realistic approach, but there is also a consistent painterly dimension in it. Green is of exceptional importance. On the one hand, the lush natural green of Judy Barton's dress: in February I saw the original dress in the Hollywood Costume exhibition at the Academy Museum, and now the vintage film image. At the other extreme, the ghostly green halo surrounding Judy made over as Madeleine by Scottie at the Empire Hotel.
The otherwordly reflections at Mission Dolores can be here observed as intended; they must be difficult to reproduce in duplication. The strange reflections are not photographic or special effects; they actually emerge from way the white walls reflect sunlight.
On the other hand, the sequence at Pop Leibel's Argosy Bookstore was created with elaborate photographic and matte effects to convey a darkening atmosphere while we hear the story of Mad Carlotta. This too can be observed here as intended.
I have been impatient with the difficulties of digital in conveying forest and nature in general. I have to admit that nature has always been difficult for three-strip Technicolor, as well. The fit of the three Technicolor separation masters is never perfect enough to produce an unblurred image of a tree whose leaves are moving in the wind. Also in this vintage Vertigo the sequoia forest is blurred in a Technicolor fashion.
To sum up: this is the colour world of Vertigo I will try to memorize, and I will always be grateful for Il Cinema Ritrovato and La Cinémathèque française for that.
This print has been in heavy use, and it looks like it has been screened a thousand times. It is full of scratches, "rain" and cuts (more than one minute is missing). Some scratches are severe, the proud battle scars of a much loved classic.
BLANDINE ETIENNE (LA CINEMATHEQUE FRANCAISE): VERTIGO, COPIE CONFORME
La Cinémathèque française
« Vertigo », copie conforme
Blandine Etienne
- 25 juin 2015
La projection de Vertigo (Sueurs froides) à l'été 2015 lors de la rétrospective Technicolor organisée par la Cineteca de Bologne est l'occasion de revenir sur la prestigieuse copie du film d'Alfred Hitchcock, exceptionnellement prêtée par la Cinémathèque française pour l'événement.
Unique en Europe, ce tirage Technicolor d'époque, réalisé par imbibition, est gage d'une extraordinaire stabilité des couleurs. Les sept bobines - soigneusement préparées lors d'une scrupuleuse étape de vérification et accompagnées d'un projectionniste de la Cinémathèque française pour cette séance italienne – sont d'autant plus précieuses qu'elles ont été données à Henri Langlois par Hitchcock lui-même.
Réalisé en 1958,
Vertigo
revient de façon récurrente dans les listes des meilleurs films du monde, tout en étant quasiment invisible dans son format VistaVision d'origine et ses authentiques couleurs Technicolor. Témoignage historique, cette copie originale de
Vertigo
permet aussi de se pencher sur les choix techniques et esthétiques du cinéaste.
VistaVision - Motion Picture High-Fidelity
Après
The Wrong Man
(
Le Faux coupable
, 1956), tourné en noir et blanc pour la Warner, Hitchcock retourne à la Paramount et au format VistaVision. Ce grand format, lancé en 1954 par le studio pour concurrencer le CinemaScope de la Fox, vise à contrer le petit écran qui envahit alors les foyers américains. Le procédé de prise de vues s'appuie sur un défilement horizontal de la pellicule 35mm, soit une image à 8 perforations au lieu de 4. L'image inscrite dans la longueur de la pellicule et non plus dans sa largeur, offre un grand format qui fait l'objet d'une réduction optique (1.66 ou 1.85) pour l'exploitation en salles, sans nécessiter d'anamorphose, contrairement au CinemaScope.
Rectangulaire, plus grande, l'image dite « haute fidélité », est de meilleure qualité mais nécessite une quantité deux fois plus importante de négatif. C'est donc avec une caméra Mitchell VistaVision qu'Hitchcock entame le tournage de
Vertigo
. Le cinéaste anglais maîtrise parfaitement le format, qu'il a été un des premiers à employer pour
To Catch a Thief
(
La Main au collet
, 1955) et avec lequel il a également tourné
The Trouble With Harry
(
Mais qui a tué Harry ?
, 1955) et
The Man Who Knew Too Much
(
L'Homme qui en savait trop
, 1956). Pour
North by Northwest
(
La Mort aux trousses
, 1959), il dût convaincre la MGM de prendre en licence le procédé VistaVision, propriété de Paramount ; preuve de son attachement à ce grand format onéreux qui sera abandonné en 1961.
À noter que son emploi n'est pas sans conséquence pour la profondeur de champ. Dans les gros plans, il est pratiquement impossible d'obtenir un arrière-plan net.
Vertigo
compte ainsi plusieurs gros plans sur fond flou que la Paramount aurait préféré éviter mais qui contribuent néanmoins à la dimension onirique du film et à la fascination exercée par le personnage de Kim Novak.
« Color by Technicolor »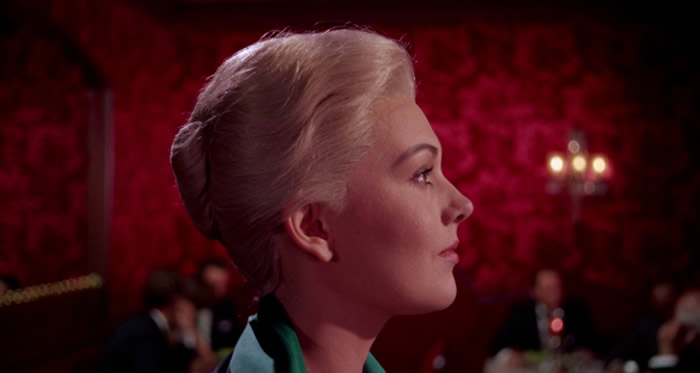 À l'heure de
Vertigo
, en 1958, le Technicolor vit son chant du cygne. Le procédé, inventé en 1915 par le Dr Herbert T. Kalmus, a connu quatre évolutions majeures. Trois systèmes bichromes se sont succédé avant d'aboutir en 1932 au système trichrome. La prise de vue en trichromie constitue un véritable défi technique avec ses trois négatifs noir et blanc, enregistrant chacun simultanément trois couleurs (rouge, vert, bleu). Procédé très lourd, nécessitant une caméra trichrome encombrante dont la sensibilité modeste impliquait un éclairage imposant, le Technicolor était réservé aux productions importantes.
Ses légendaires couleurs, d'une grande profondeur, ont fait le succès de
The Adventures of Robin Hood
(
Les Aventures de Robin des Bois
, Michael Curtiz, 1938), de
The Wizard of Oz
(L*e Magicien d'Oz*) ou de
Gone With the Wind
(
Autant en emporte le vent
, Victor Fleming, 1939) et lui ont valu l'appellation de « Glorious Technicolor ». Le Technicolor vit alors son âge d'or et ce durant plus de vingt ans, jusqu'à l'introduction massive de nouveaux formats et procédés couleurs dans les années cinquante. Les studios sortent alors le grand jeu pour concurrencer la télévision et développent les copies dans leur propres laboratoires, apposant leur nom au procédé. En 1955, avec le succès du négatif Eastman, le monopole du Technicolor cède la place à celui du Eastmancolor, encore en vigueur aujourd'hui. Mais si la prise de vue avec la caméra trichrome est abandonnée, le tirage par imbibition (« dye-transfer ») perdure dans les laboratoires Technicolor qui s'adaptent et développent des systèmes de tirage spécialement conçus pour les nouveaux formats. C'est le début d'une cinquième étape dans l'existence du Technicolor.
Les années cinquante signent aussi la fin du « Color Consulting » dirigé par Natalie Kalmus, épouse du Docteur Kalmus et consultante couleur officielle de la société Technicolor. Initié dès les années vingt pour pallier l'utilisation excessive de couleurs vives risquant de distraire un public qui considérait toujours le film noir et blanc comme un médium plus réaliste, ce service optionnel était devenu obligatoire à partir de 1935 pour toute production louant une caméra Technicolor. La fin du service de consultation des couleurs marque donc définitivement le retour du pouvoir aux équipes – liberté dont les chef-opérateur, décorateur et costumier de Vertigo bénéficient à plein.
Film post « Glorious Technicolor »,
Vertigo
porte ainsi la mention « Color by Technicolor » bien qu'entièrement filmé avec une caméra VistaVision et un négatif Eastmancolor dont les trois couleurs sont superposées en couches dans l'émulsion. Ce label pointe un développement par le laboratoire Technicolor de tout type de négatif avec les authentiques couleurs du procédé.
Invention complexe lancée en 1929, le tirage par imbibition, consiste à effectuer trois matrices, spécialement conçues pour absorber chacune un colorant (jaune, magenta, cyan) avant d'être pressées tour à tour contre le positif de projection vierge. Après 1955, les trois matrices sont développées à partir d'un seul négatif sur le même principe d'une matrice pour chaque couleur complémentaire.
Reposant sur l'absorption de colorants par la gélatine, le tirage par imbibition diffère de l'étape de développement classique. Cette méthode de tirage, à la base du procédé Technicolor, a plus à voir avec l'imprimerie que les autres procédés, dont les couleurs latentes se révèlent chimiquement. Avec ses trois couches de colorants, dont le relief est toujours présent sur l'émulsion, chaque photogramme du positif Technicolor s'apparente à une lithographie. Leur tirage limité les rapproche encore de l'estampe originale.
Après l'accueil mitigé de ses derniers films, Hitchcock doit faire ses preuves et les options techniques sont prises en connaissance de cause. Le cinéaste préfère un tirage en couleurs Technicolor, plus long à réaliser, ne seraient-ce qu'à cause des délais pour visionner les rushes, quand l'option la plus évidente et la plus économique aurait été un tirage Eastmancolor. Mais il maîtrise parfaitement le format et le procédé couleur choisis et assure encore ses arrières en s'entourant d'une équipe formée de collaborateurs réguliers. Hitchcock a l'habitude de travailler avec le directeur de la photographie Robert Burks avec lequel il tournera au total 12 films dont 9 en couleurs.
Hitchcock, le Technicolor et Vertigo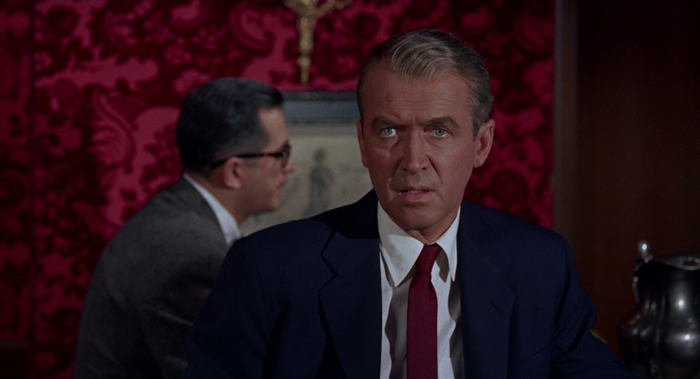 Sa première expérience du Technicolor remonte à 1948 pour
Rope
(
La Corde
), tourné avec l'imposante caméra Technicolor Three-Strip. Suivra
Under Capricorn
(
Les Amants du Capricorne
) filmé l'année d'après dans les mêmes conditions. En 1954, Hitchcock expérimente le Warner Color pour
Dial M for Murder
(
Le Crime était presque parfait
, équivalent de l'Eastmancolor. La même année,
Rear Window
(
Fenêtre sur cour
, 1954) est réalisé comme
Vertigo
avec un négatif Eastman et un tirage Technicolor. Hitchcock revient à la prestigieuse palette chromatique du Technicolor, constituée de couleurs douces ou saturées, pour ses films en couleurs :
To Catch a Thief
(1955),
The Trouble With Harry
(1955),
The Man Who Knew Too Much
(1956),
North by Northwest
(1959),
The Birds
(
Les Oiseaux
, 1963),
Marnie
(
Pas de printemps pour Marnie
, 1964),
Torn Curtain
(
Le Rideau déchiré
, 1966),
Topaz
(
L'Étau
, 1969),
Frenzy
(1972) et
Family Plot
(
Complot de famille
, 1976) sont également des films « Color by Technicolor ».
Ce choix technique n'est pas anodin et peut être considéré comme un parti pris esthétique de la part d'Hitchcock pour
Vertigo
, où la couleur a bien évidemment toute son importance ; à commencer par l'apparence du double personnage interprété par Kim Novak, la blonde Madeleine et la rousse Judy. Les propos du cinéaste évoquant un caprice de l'actrice à propos de sa garde-robe, rapportés dans le « Hitchcock-Truffaut », sont révélateurs : « Je suis allé voir Mlle Novak dans sa loge et je lui ai expliqué qu'elle devait porter celles que j'avais prévues depuis plusieurs mois. Je lui ai fait comprendre que l'histoire de notre film m'intéressait beaucoup moins que l'effet final, visuel de l'acteur sur l'écran dans le film terminé ».
L'importance accordée à la dimension visuelle s'annonce dès le générique, avec les spirales envoûtantes évoluant en couleurs éclatantes sur fond noir le temps d'une séquence d'animation réalisée par Saul Bass, dont c'est la première collaboration avec Hitchcock. Comme pour donner encore plus de valeur aux couleurs qui vont suivre, le film commence en noir et blanc – un très gros plan du visage de Kim Novak, vierge de toute coloration, que la caméra scrute jusqu'à ce que l'image se teinte violemment de rouge.
Hitchcock ne lésinera pas sur l'emploi de filtres colorés au fil du film. Dans le même genre, le cauchemar de Scottie, le personnage de James Stewart, mêle images réelles et animées. Débutant sur le visage de l'acteur bombardé de flashes de couleurs clignotant sans relâche, la séquence offre une explosion de couleurs saturées. Le bouquet de fleurs de Carlotta, reproduit par Madeleine, laisse place à un éclatant ballet de formes colorées, également conçues par Saul Bass.
L'intensité des fameuses couleurs Technicolor et l'usage que le cinéaste en fait, alternant palette douce et couleurs artificielles plus violentes, plongent le film dans une atmosphère fantastique. L'expressionnisme de la couleur et sa mise en scène hypnotique imprègnent le spectateur.
Le rouge, violemment introduit dans le générique, revient régulièrement. Rouges les murs du bar où Madeleine fait sa première apparition, rouge encore le pont de San Franscisco lors de la tentative de suicide de l'héroïne, rouge son peignoir dans la scène suivante de même que la porte de l'appartement de Scottie dans lequel ils se sont réfugiés. Rouge aussi le gilet de Midge (Barbara Bel Geddes) quand elle tente d'ouvrir les yeux de Scottie et rouge plus que jamais le bijou fatal de Carlotta Valdès dont Hitchcock n'hésite pas à faire clignoter le rubis. À nouveau, un filtre rouge sur le visage de Judy introduit le
flashback
explicatif qui révèle la machination dont Scottie a été victime.
Parmi les trois couleurs primaires, le bleu est traité dans des palettes plus douces et réservé à des moments plus ancrés dans la réalité ; à l'exception de l'indigo profond du prologue, où l'on découvre l'acrophobie du héros suspendu à une gouttière. Il est présent dans les extérieurs de San Francisco et ses environs et reste principalement associé aux personnages de Scottie (le regard, les costumes) et de Gavin Elster (Tom Helmore) qui le propulse dans l'aventure.
Absent des scènes avec Midge, où dominent le beige, le jaune, l'ocre et autres couleurs pastel baignées dans un éclairage toujours lumineux, le vert est la couleur de Madeleine. Lors de sa première apparition, elle concentre tous les regards en robe d'un noir profond, rehaussée d'un tissu émeraude. Le vert s'impose encore dans la première longue séquence de filature de Madeleine par Scottie. Chez la fleuriste, une boite verte au premier plan attire l'œil. Au cimetière, la séquence est filmée à travers des filtres de brouillard permettant d'obtenir un effet coloré vert par dessus la brillance du soleil.
Mais encore le vert de sa voiture ou celui du gazon au cimetière et autour de l'église espagnole, le vert sombre de la forêt et son Sequoia
sempervirens
- dont Scottie rappelle le « always green, ever-living ». Verts aussi le pull de Scottie et les lignes horizontales du store dans la séquence de l'appartement où il ramène Madeleine après sa tentative de noyade. Si Madeleine porte souvent du noir et blanc ou des tons gris neutres, Judy est montrée la première fois dans un ensemble vert, tandis qu'elle passe devant deux véhicules de la même couleur. Et vert forcément, le néon de l'Empire Hotel qui nimbe sa chambre d'une lumière irréelle.
Alfred Hitchcock le confie à Charles Bitsch dans une interview donnée en février 1959 aux
Cahiers du cinema
: « En fait, le vert est ma couleur favorite. J'aime les couleurs de la terre, les verts, les bruns, les ocres. J'aime moins les bleus ou les rouges. Ici, j'ai satisfait mon goût pour le vert en associant cette couleur au thème du passé qui tenait une grande place dans le film. Je tins beaucoup à avoir une enseigne lumineuse verte à l'extérieur de l'hôtel de Judy : je me suis surtout servi de cette lumière verte lorsque Judy sort de la salle de bains sous l'apparence de Madeleine. Pour avoir en plus cet effet de diffusion, nous avons employé le type de filtre dont on se sert pour les effets de brume, mais dégradé, de façon à ce que, au fur et à mesure que Judy avance vers l'appareil, en déplaçant le filtre devant l'objectif, les contours de cette apparition fantomatique deviennent de plus en plus nets ».
La copie de la Cinémathèque
Grâce au fameux tirage Technicolor par imbibition, les couleurs de
Vertigo
sont restées intactes ; fidèles à l'exceptionnelle qualité de ce procédé d'impression dans la restitution des couleurs. Sa grande stabilité chimique, toujours inégalée, garantit de préserver la palette orchestrée par Hitchcock. Emprisonnées à l'intérieur de l'émulsion, les inimitables couleurs Technicolor dont on peut toujours sentir le relief au toucher sur la pellicule, ne bougeront plus.
Toutes les copies de
Vertigo
tirées à l'époque de sa sortie en 1958 ont été réalisées selon ce procédé unique et délicat. Réservé aux productions importantes, le tirage par imbibition était par nature limité et il le devient d'autant plus lorsque son nombre se voit encore réduit de moitié à partir de 1955. Parmi la cinquantaine de copies de
Vertigo
qui a peut-être été tirée, la copie de la Cinémathèque française est à ce jour l'unique existant en Europe.
Aujourd'hui, voir une copie originale de
Vertigo
dans sa version originale relève de la quête du Saint Graal et les spectateurs chanceux qui ont pu le voir projeté dans ces conditions disent avoir découvert un nouveau film…
Retiré des circuits de distribution en 1968,
Vertigo
avait fait l'objet d'une première restauration bâclée à partir d'éléments fatigués (en raison de sa popularité), ressortie sur copie Eastman en 1983. La seconde restauration de 1996 est initiée par Universal (désormais détenteur des droits du film) pour tenter de sauver des ravages du temps le négatif original du film, mal conservé et détérioré. L'entreprise est menée par Robert Bob Harris et James Katz, en 70mm (Super VistaVision) pour s'approcher du format VistaVision d'origine. À l'issue d'un travail titanesque pour restaurer en numérique les scènes endommagées, il est apparu impossible de retrouver la pureté originelle des couleurs avec les moyens de l'époque (Kodak ne proposait pas encore le procédé de tirage par imbibition, repris dans ses laboratoires, dont a pu bénéficier par exemple la restauration de
Rear Window
dans les années deux mille). Côté son, des libertés avaient aussi dû être prises et Universal avait finalement décidé de ne commercialiser en DVD qu'une version retravaillée et passée en Stéréo.
Reflet exact du travail original, la copie de la Cinémathèque a été validée par Hitchcock, tant pour la colorimétrie que l'étalonnage et le son. Ce tirage permet de retrouver
Vertigo
comme à son premier jour. La légende peut continuer à vivre, en authentique Technicolor mais également avec le mixage original d'époque enregistré en Mono.
Et cette copie est d'autant plus unique qu'elle a été confiée à la Cinémathèque par le maître en personne. Devenu son propre producteur après l'expiration du contrat qui le liait à David O. Selznick, Hitchcock était même, ce qui est rare à Hollywood, propriétaire de plusieurs de ses négatifs. Ses films Paramount avaient ainsi bénéficié d'un contrat stipulant que la possession des films lui reviendrait 8 ans après leur première sortie en salles. Pour
Vertigo
, la cession est effective en mai 1966. Hitchcock en fait don à Henri Langlois, fondateur et directeur de la Cinémathèque qui a lui a déjà consacré deux rétrospectives en mai 1960 puis en juin 1964, et auquel le cinéaste a toujours accordé son soutien indéfectible.
La précieuse copie est entre de bonnes mains et soigneusement préservée. Prêtée une première fois en 1969, au National Film Theatre à Londres et amenée par Langlois lui-même, sa dernière sortie remonte à 2006.
---
Blandine Etienne est chargée de production web à la Cinémathèque française.
Voir aussi